THE CHARACTERS OF PARADISE LOST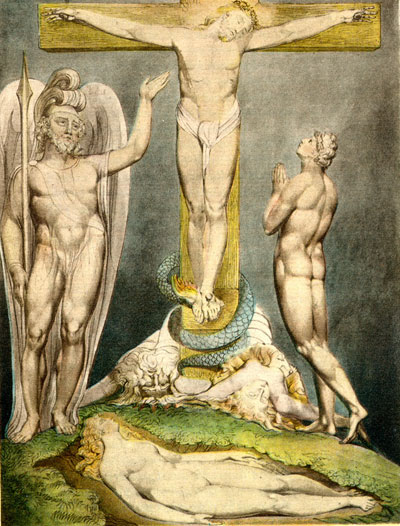 The angel Michael foretells the Son's crucifixion to Adam.
The Son
Christ, usually referred to as 'the Son', is the 'one greater man' (I.4) who will restore mankind after the Fall of Adam. He is the poem's hero, but his heroism is largely a quiet one. The great heroic act of the poem comes when the Son answers God's call to the heavenly powers for one to offer satisfaction for man's crimes, 'death for death' (III.212). The Son offers to become mortal and give his life to redeem man's:
Behold me then, me for him, life for life
I offer, on me let thine anger fall;
Account me man. (III.236)

As this is a decision and a conversation rather than a dramatic act - the crucifixion itself takes place long after the events of Paradise Lost - it is easy to let it slip into the background. However, throughout the poem, the anticipation of Christ's sacrifice and man's redemption softly breathes hope and gives meaning to the Fall; after all, without the Fall, there would be no need for the Son's sacrifice which is seen by Christians (including Milton) as the fullest example of God's love for mankind. (This idea is known as the Fortunate Fall or felix culpa.)
The Son also has other roles in Paradise Lost. In Book X, he acts as an intermediary between man and God, bringing judgement from God to Adam and Eve, but also interceding for them, making sure God hears their prayers for forgiveness. God describes the Son as 'Man's friend, his mediator' (X.60).
The Son is also the Word of God, a theological idea which means that the Son is the agent by which God makes things happen, as we see in the story of Creation, narrated to Adam by Raphael in Book VII. It is the Son who defeats Satan in the battle in heaven, narrated in Book VI.
EXPLORE MILTON'S HEAVEN...