MEET THE CONTRIBUTORS
We asked all of our contributors to tell us about their favourite lines of Milton and their experiences of reading his work.
Katharine Fletcher

Before their eyes in sudden view appear
The secrets of the hoary deep, a dark
Illimitable ocean without bound,
Without dimension, where length, breadth, and height,
And time and place are lost; where eldest Night
And Chaos, ancestors of Nature, hold
Eternal anarchy, amidst the noise
Of endless wars, and by confusion stand.
~Paradise Lost, II.890.
One of my favourite aspects of Paradise Lost is Milton's presentation of the realm of Chaos. It is really unsettling and much more than even the portrayal of Hell and the fallen angels, creates a feeling of genuine otherness.
The description of Night and Chaos as eldest and ancestral is a disturbing addition to Milton's Christian universe as it (dangerously) suggests the possibility of something as old as or maybe even older than God. The prospect of 'eternal anarchy' locates them, like God, outside of linear time, without even a moment of inception. Even Satan, although ultimately evil, is a creation of God. These beings are truly uncreated.
The imagery is also unsettling; how are you supposed to conceive of an ocean that is illimitable or picture a scene that is not ordered or bound by length, breadth, height, time and place? These dimensions are what we understand our world by and by suggesting something that exists without these, Milton confronts us with something truly beyond the possibility of human experience. Milton plays with this contrast in his word order. He lists the dimensions we know (length, breadth etc.) and so creates something secure and familiar, emphasizing the way in which we normally understand things. Then suddenly, all that familiarity is stripped away in one moment with the word 'lost' which has been delayed to the end of the clause. This is a very powerful effect and the reader experiences something akin to a chasm opening before them; in this way Milton, rather than explicitly describing this place (which is usually described in terms of what it is not), manages to create a sensation of its void and confusion.
Another thing I love is the vitality and potency of this chaos. It is not sterile and cavernous like Hell, but teeming with the potential for creation (it is the 'dark material' out of which God creates new worlds, II.916). Milton creates a feeling of this vitality in using (and indeed creating) words such as 'illimitable'. If he had used 'unlimited' for example, the feel would be much more static as it is an adjective made from the past tense of a verb. 'Illimitable' is something that applies in every instance of 'now' it is as alive as the matter it describes.
One of the nice things about this passage is that while the imagery is confusing and forceful, the language itself is actually pretty simple. The first time I read Paradise Lost there was an awful lot I didn't understand; there were so many references to mythology and literature that I didn't get and a lot of the syntax was very hard to untangle. But I've come to see that there is also a beautiful simplicity underlying much of what he wrote, which you can get at if you don't let yourself be intimidated by these things.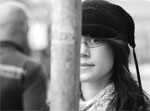 Writer, Executive Editor.

Katharine has recently completed her MPhil in Renaissance Literature at Cambridge where she also took her BA. Her academic interests include Milton (she wrote three dissertations on the chap in her time at Cambridge), the philosophy of language, and stage clowns. She works in Oxford, writing and presenting a podcast for an online media start-up. In her spare time she writes fiction.