MEET THE CONTRIBUTORS
We asked all of our contributors to tell us about their favourite lines of Milton and their experiences of reading his work.
Sarah Howe
till on the beach
Of that inflamèd sea, he stood and called
His legions, angel forms, who lay entranced
Thick as autumnal leaves that strew the brooks
In Vallombrosa, where the Etrurian shades
High overarched embower...
~Paradise Lost, I.299.
When I was six or seven, I was thrown off a horse for the first time. I remember landing flat on my back in the damp sand, so stunned that my ribcage wouldn't move, my open eyes fixed on the charcoal-coloured clouds. My favourite bit of Paradise Lost is Milton's image of the angel hordes, fallen from the sky and hitting the beach in Hell. They lie there 'entranced'. There is something almost homely about this observation - they are dazed and winded by their fall. It's as though Milton feels the experience in his own body, but at the same time registers their sense of being shocked out of their bodies. They are 'angel forms', a bit hazy around the edges - not exactly angels any more, but we're not yet sure what they're going to become. With that word 'entranced', I imagine that the stunned legions, temporarily deaf to Satan's call, are as paralysed by the unexpected beauty of the scene as we are. As though they were staring through into the tranquil, autumn woodland, to which Milton compares them in the following simile.

Elizabeth Bishop said that for a simile to work, the things you're comparing have to be alike in at least three distinct ways. Milton's similes have an instantaneous impact - we immediately perceive a likeness. But it's one that also gets richer as you draw more out of it. First there's colour. The 'inflamèd sea' of Hell is awash with reds and oranges like a Tuscan forest in autumn, leaves burning on the mirrored surface. Then there's the perception of numberlessness - leaves and rebel angels lie in drifts, too numerous to count. Finally, you feel the crumpled, desiccated shapes of the leaves, their delicate, contorted spines, and this seems like the condition of the devils, who were just radiant up in the sky and are now dried out, deadened things.

In my work, I'm interested in the way that poetry can make us see pictures. When we talk about an 'image' in a poem, what do we actually mean? How does Milton put those angels, and that forest, into our mind's eye? And then how do they interact once they get there? Milton is a particularly difficult and interesting case in this regard; by the time he was writing Paradise Lost he was blind, and he was hostile to the visual arts even before that. Vallombrosa ('the shadowy valley') is an actual place in Italy that Milton visited during his travels in his youth. The concrete, geographical detail is typical of his style, but it has perplexed various literal-minded editors down the ages, since (a) it has been proved from Milton's itinerary that he could not have seen the forests there in autumn, and (b) they're coniferous, so would not have lost their leaves in any case. It just goes to show that imagination and poetic experience are trickier things than we as literary critics might immediately think.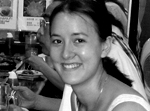 Writer, Web Designer.

Sarah is writing a PhD at Christ's, where she also spent her undergraduate years. She is fascinated by the way that words and images interact, especially in Renaissance literature. In her spare time, she is a painter, but has recently been having fun learning how to make websites.
Milton's Poems (1645) Portrait