THE CHARACTERS OF PARADISE LOST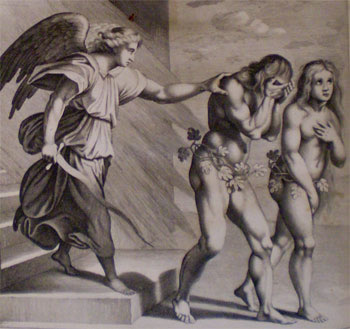 Michael expels Adam and Eve from Paradise
Michael

Michael appears briefly in Book VI when he is appointed, with Gabriel, as leader of God's army of angels, in which position he wounds Satan. His main appearance in Milton's poem comes when God needs an angel to carry out the expulsion of Adam and Eve from Paradise. Michael's job is to 'without remorse drive out the sinful pair' (XI.105), and then defend the gates of Paradise from intruders. The aggressive, powerful side to his personality is revealed in Milton's repeated description of him in relation to flames: he is one of the 'flaming warriors' (XI.101) and his sword is described as having a 'flame | Wide waving' (X.120). Adam accepts God's use of Michael for this role, as seen by his respectful, stately greeting of the angel. Michael's suitability for the job is shown in his efficient verbatim quotation of God's command (XI, 261-62 and 97-98). However, as Adam and Eve begin to show their grief, we see a more compassionate, patient side to the angel. He shows 'regard benign' (XI.334) and is described as 'moved' (XI.453) when he successfully conducts God's job of explaining and reassuring Adam and Eve about the future.
Overall, I find Adam's descriptions of Michael the most revealing of the angel's character and purpose in the poem: he is to Adam the 'teacher' (XI.450), the 'heavenly instructor' (XI.871) and the 'true opener of mine eyes' (XI.598).

EXPLORE MILTON'S HEAVEN...